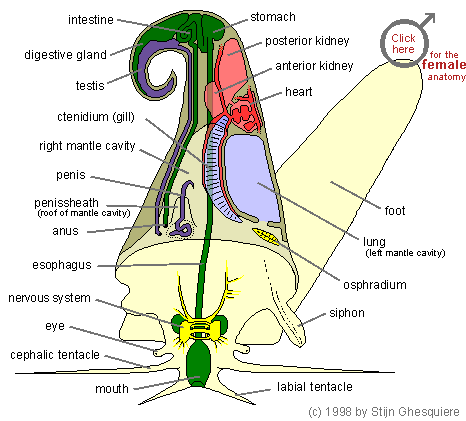 The overview picture above is a simplified version of the apple snail anatomy. Also keep in mind that there are small differences between the different apple snail genera. This should not be a problem as these differences are relatively small.

Note that the anatomy of apple snails can not be applied on all other snail families. Close relatives as the Viviparidae snails do have a somewhat similar anatomy, with as main difference the absence of a lung in those snails, but land snails for example differ quite a lot.
Important to realize as well is that the snail's body is coiled in the shell. This is not visible in the picture above, to keep the whole picture easier to understand. In the picture below however, one can see how the snail organs are arranged in the coiled body.
.

http://www.applesnail.net